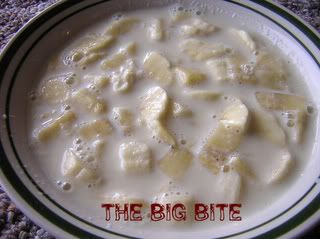 This is also called as Balehannina Shikarni in Kannada and Kelyache Shrikaran in Marathi.
Banana is known as a "cooling fruit" and has great benefits. If taken along with milk and honey, it cures lathargy and fatigue in summer esp during workouts and activities. It helps to calm the stomach, with the help of honey and the milk re hyderates the system. It is highly recomended for morning sickness, stress and heart burn. It is an excellent source of energy and contain 120 calories of energy, sucrose, fructose and glucose. Rich in vitamin A B & C , fiber, minerals and proteins which are beneficial for maintaining good health and in treating various illnesses.
Read More
.
Here is the quick recipe:
2 Chopped Ripe Bananas (not very ripe)
1 cup whole milk or condensed milk
2 tbsp jaggery/honey/sugar (It should be as sweet as the banana itself)
1/2 Tsp cardamom powder
Method:
1. Boil milk and allow it to cool a bit.
2. When its still warm, add jaggery/honey (If You add sugar allow it to cool completely first)
3. Add banana to the milk and sprinkle cardamom powder
4. Serve at room temperature.
This can be served as a
side dish
with chapatis/rotis or can be eaten directly like
soup
(You can call it a Banana soup rather than a side dish :))
Tips:
1. You can mash the bananas before adding them to milk to make it more thick.
This entry is for
Fun N Sun event
.