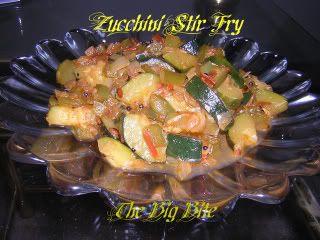 Ingredients
:
2 chopped zucchini
1/2 chopped green pepper
1/2 finely chopped small onion
2 tomatoes chopped or pureed
1 finely chopped garlic clove
1/2 tsp grated ginger
salt
1 tsp garam masala for flavor
1/2 tsp red chili powder
1 tsp sugar (to adjust the tanginess of tomatoes)
For Tempering:
1 tbsp oil
1 tsp mustard seeds
1 tsp urad dal
Preparation
:
1. Heat oil in a stir fry pan, add mustard seeds and urad dal. Wait till dal becomes light brown, then add garlic.
2. Add onions and fry till they are translucent, add tomatoes/puree and cook for 1 min
3. Add green pepper and saute till they are tender.
4. Add Zucchini and fry them for 1 min and let them cook. Do not add water.
5. Add garam masala, red chili powder, salt and sugar one by one and stir well till they blend with the vegetables. Done!
Serve Delcious Zucchini Stir fry with hot
Paratha with rice flour stuffing
.
Also see:
1. Zucchini ki sabzi (with gram flour)